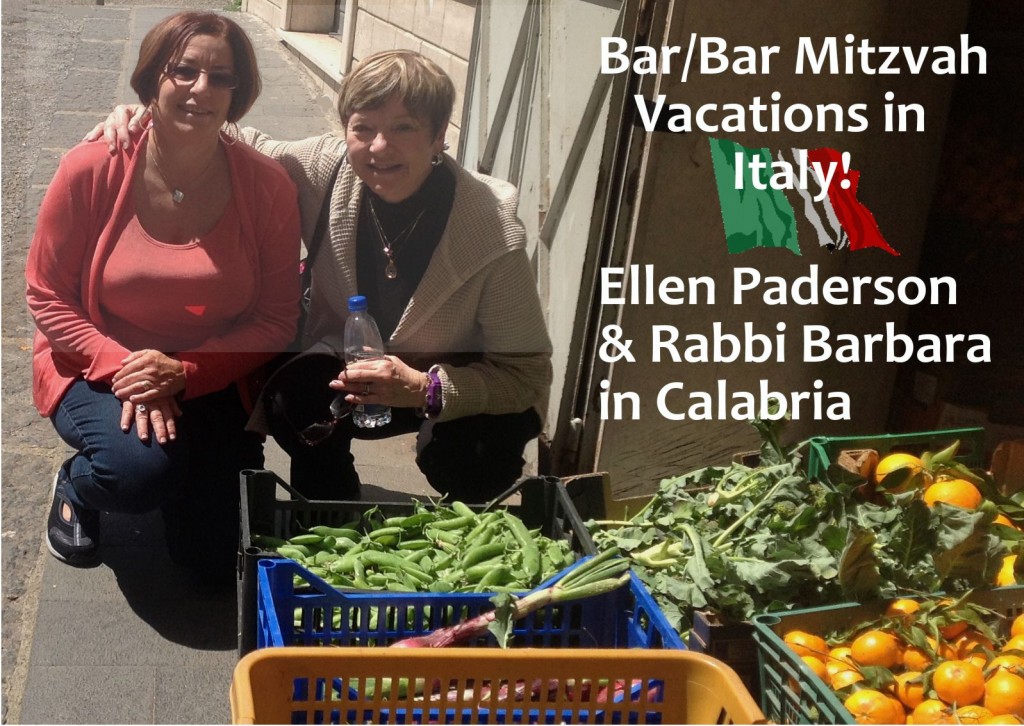 "I've been all over the world visiting sites that might be suitable for my Destination Bar/Bat Mitzvah clients. I select only those venues that foster both respect and reverence for this special time in a child's life, and a sense of family bonding and adventure that will create cherished, lifelong memories.

Rabbi Barbara Aiello's southern Italian location, her warmth and spirituality, and the many wonderful travel options in Italy, have made Calabria one of Bar Mitzvah Vacations' most-requested destinations."

Ellen Paderson
Recently I was privileged to spend several weeks in the lands bordering the Mediterranean. On a week-long cruise, I refreshed my knowledge of intriguing ports such as Barcelona, Naples and Monte Carlo, then enjoyed a stay in Italy that included Rome and Serrestretta, the charming Calabrian home village of Rabbi Barbara and her Jewish community. What a wonderful welcome from my valued Bar Mitzvah Vacations associate!
The essence of peace and charm, Serrestretta offers everything a family Bar/Bat Mitzvah group could wish for, from ceremonies full of joy and deep meaning, to historic sites that educate and enlighten children about European Jewish history and tradition.
As well as planning your intimate Bar/Bat Mitzvah in Italy,Bar Mitzvah Vacations also helps your family experience the excitement and beauty of Rome, Venice, the Amalfi Coast and more. We work with only the best Italian tour experts to ensure that your sojourn in Italy includes your group's most-desired attractions and activities.
Let me know your plans for your child's upcoming Destination Bar/Bat Mitzvah …we can work together to create a once-in-a-lifetime adventure to please all generations and most budgets.